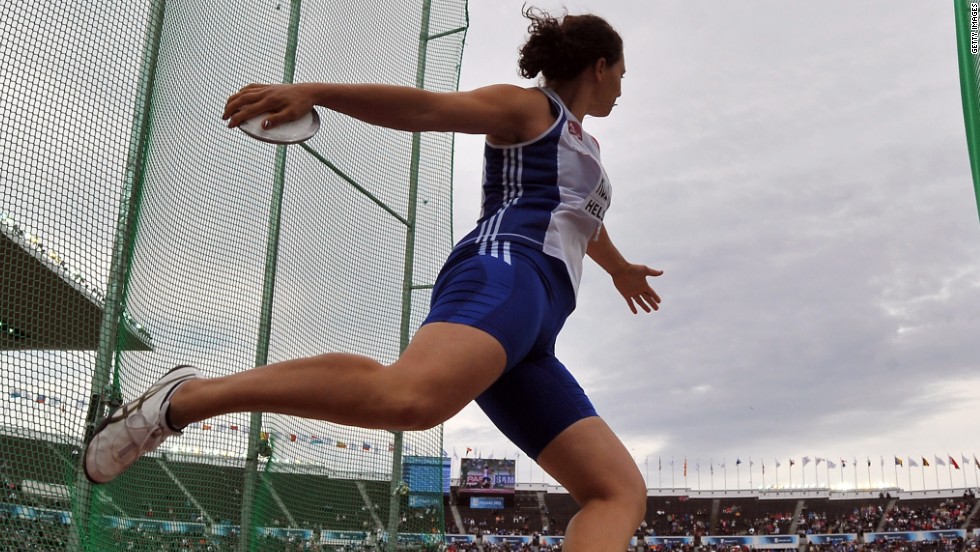 My sophomore year in high school I got talked into joining the track team. If you knew in person you'd laugh. Not because I'm not athletic, but because I've got some of the worse asthma you'll run across! Track and field is typically running.
The coach took one look at me and handed me a shot put and a discus. I wasn't delighted at first because I was pretty much the only person throwing them! I talked my friend, Bobbie, into joining the team. We had a blast. I'm not willing to humiliate myself publicly and tell you just how awful I was at shot put. I look strong, but I'm your typical woman with horrendous upper body strength. Shot put requires actual strength.
Discus? Oh please… let me tell you!!!! I found my sport in the discus. I'm not drawn to compete with others all that much. Beating my personal best and pushing myself for the thrill of exceeding my limits are the driving force of competition. Discus isn't about strength so much as form.
Body posture, concentration, holding the discus just right for maximum speed and distance… mastering the spin throw technique. A few weeks into practice I found the sweet spot. It took half the first season to get good, but I was motivated to beat my throws. Whether the other girls were there or not, I showed up and pushed myself to get better.
My highest throw that first year was 110 feet! For those of you who don't know too much about discus… most people (lol)…. the girl's average first year high school throws are in the low 90 feet range.
I won first place almost every track meet both years! The only meets I placed second or third were to teams that had girls significantly more muscular and taller than I was. I got Varsity letters both years!
My discus career ended with my top throw at 125 feet. It was a distance I just couldn't beat! To go beyond that I'd need strength and muscle development. I was willing to retire my discus years being the top discus thrower in my high school.
I knew at the time I was throwing father than most of the girls I competed against, but I had no idea that I was quite a bit beyond most high school girls…. especially back in the late 1980's.
Tidbit of trivia…. the world record for women's discus is 252 feet set by Gabriele Reinsch in 1988. Her image is from Pintrest.